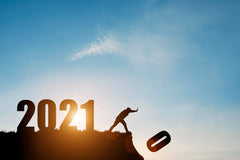 Yep, you are here! Hello 2021, we welcome you with open arms! While we do not expect you to be our saviour, we do have high hopes you will crush 2020! It was a trying year for us all, collectively as a race, and individually as we bore our own trials and tribulations. You have much work ahead of you 2021, much work, but we're in this together!
It wasn't all bad, well, we launched a new gluten free fresh pasta company in the worse year ever to launch a company, well except perhaps post 1929 but we're going with worse year ever. Ya'll showed a ton of support in our pre-launch, ordered a bunch of our pasta, the post office lost some 🤦🏻‍♀️, and British Vogue reached out wanting to do a feature..all in all we are super excited for the year ahead and we have high expectations for ourselves and of you too 2021...we'll do our job, you better do yours for all of us! Today is your day, let's get to work.  
While 2021 is rolling up it's sleeves, let's give you a sneak peak of what is in store for us here at GFP! 
New Line Up: We have 6 new GF pasta varieties we are rolling out, starting with...GF stuffed shells! We're releasing our stuffed shells to our exclusive Tri-Me Flight 3-month Pasta subscription box club.  If you're not a subscriber, head over and check it out, you'll get first taste action on our new line-up there!  
Retail Locations:  We are currently in talks with small regional retail stores and we hope to be able to officially announce that you will soon be able to purchase in person at select retailers! We are pretty excited about this too!
Community Outreach: Service is important to us, it strengthens our community and provides assistance to those truly in need.  GF Pasta is developing a "buy one, donate one" program that will enable us to donate on pack of gluten free pasta to regional food banks for every one purchased in that series.  Demand one food banks skyrocketed to the tune of 60% this last year, lets help feed our future - the kids!    
GFP Cook Book: Yep! We're planning to release a "Cooking with GFP Fresh Pasta" cook book...we have a lot on the docket for 2021!
Youtube Channel: We might be a bit ambitious with this one, but we have a "cooking with GFP" youtube channel planned to go online this summer...so stay tuned there! Cooking with GF pasta isn't easy, and we'll show you how, and whip up some great dishes in the process, we hope to see you there! 
We want to hear from you! Head over to our social pages and let us know your thoughts on what we are rolling out here at GFP!
Excited to leave 2020 in the rear view? Us too! Wishing you a very happy, healthy, and prosperous new year! 
Thank you so much for your orders, your support, and patience throughout these nutty times! Stay healthy out there! 
😉 -The GFP Crew 😉
P.S. Speaking of staying healthy if you're looking for a new podcast, check out women's health expert Dr. Jess on "Stay Healthy New England" 🙃