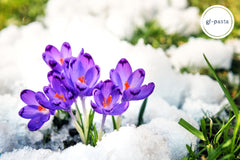 Yep! It's official, it's Friday and we'll wake up to March on Monday, whoa! Blowing through 2021 like it's 1999! What are your plans for weekend - Netflixing, E-shopping, ordering up your fav. GF swag from Whole Foods (they haven't called yet 😉)    
We are officially skating into our 3rd month from our launch and here's some awesome stuff we did: we double matched GF pasta packs bought this week and are donating them to our Local Food Bank.  They put out a call for help, and we wanted to help! Cool right? We just like doing our part!
We launched our newest pasta guy into the line-up - Fusilli.  Have you met yet? He's not too boring, but rather a solid player on the GFP team. We know you want the Rav.'s and we're working on bringing them back online real soon, but in the mean time you can look forward to what else it rolling off the pasta table an into your inbox...gluten free stuffed shells, gluten free lasagna, and our gluten free ravioli.  These hits are being rolled into our 3 month pasta box club, so head over there if you want in on some of this action!  
We're not talking lame gluten free giant squares of pasta dough folded over that we're seeing out there, no - we are talking real lasagna sheets, the kind we were brought up on.  How are we doing that? Well, we ordered a custom die from Italy for our P6 pasta buggy and it is finally is here! So stayed tuned, and keep an eye on our #insta for some sneak peaks in the GFP kitchen!  
Stay healthy, and stay happy out there Gluten Free pasta peeps!